Toyota Venza: Typical DOT and tire identification number (TIN)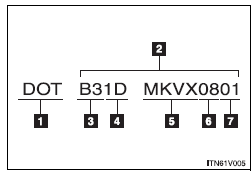 1. DOT symbol*
2. Tire Identification Number (TIN) 3. Tire manufacturer's identification mark 4. Tire size code
5. Manufacturer's optional tire type code (3 or 4 letters) 6. Manufacturing week
7. Manufacturing year
*: The DOT symbol certifies that the tire conforms to applicable Federal Motor Vehicle Safety Standards.