Toyota Venza: Manual Shifting Test
MANUAL SHIFTING TEST
1. PERFORM MANUAL SHIFTING TEST
HINT:
Using this test, it can be determined whether a problem is in an electrical circuit or if it is a mechanical problem in the transaxle.
If any abnormalities are found in the following test, the problem is in the transaxle itself.
(a) Disconnect the connector of the TCM.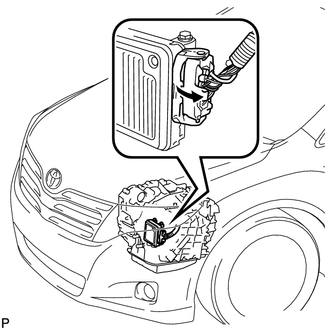 HINT:
It is possible to deactivate the electrical shift control by disconnecting the TCM connector. The gears can then be changed mechanically with the shift lever.
(b) Drive with the TCM connector disconnected. Move the shift lever to each position to check whether the gear changes as shown in the table below.
Shift Lever Position

Gear

P

P

R

R

D

3rd

No Shift (Gears will not change)
(c) Connect the connector of the TCM.
(d) Clear the DTCs (See page

).
HYDRAULIC TEST 1. PERFORM HYDRAULIC TEST (a) Measure the line pressure. CAUTION: The line pressure test should always be carried out with at least 2 people. One person should observe the condi ...
REGISTRATION CAUTION / NOTICE / HINT NOTICE: When the automatic transaxle is replaced, the transaxle compensation code must be input into the TCM (proceed to Procedure 1). After the aut ...
Other materials about Toyota Venza:
Cursor or Map Rotates when Vehicle Stopped
PROCEDURE 1. CHECK CONDITION (a) Check with the customer if the vehicle has been turned by a turntable. OK: Vehicle has not been turned by a turntable. HINT: If the vehicle is turned on a turntable with ...
Inside Vehicle
General Maintenance GENERAL MAINTENANCE CAUTION / NOTICE / HINT These are maintenance and inspection items that are considered to be the owner's responsibility. The owner can do them or they can have them done at a service center. The ...
Adjustment
ADJUSTMENT CAUTION / NOTICE / HINT CAUTION: Before adjusting the door positions of vehicles equipped with side and curtain shield airbags, be sure to disconnect the battery. After adjustment, check that the SRS warning light is operating normally and ...