Toyota Venza: Test Mode Procedure
TEST MODE PROCEDURE
1. DESCRIPTION
HINT:
When using a chassis dynamometer, brake tester, etc. to perform a vehicle test, activate test mode to avoid a "different tire diameter installed" incorrect judgment.
Test mode does not have a AWD parameter. Test mode is activated because it will prohibit a different tire diameter judgment.
| Control Status | AWD Control Status |
| --- | --- |
| During test mode | Different tire diameter malfunction judgement (detection that tire diameter of all wheels are not same) is not performed. |
2. ACTIVATE TEST MODE
HINT:
Activate test mode before using a chassis dynamometer, brake tester, etc. to perform a vehicle test.
(a) Check that the ignition switch is off.
(b) Use either of the following methods to change the AWD control ECU to test mode.
(1) Test mode activation through the Techstream
Connect the Techstream to the DLC3 connector and turn the ignition switch to ON. Using the test mode activation function (mode 10), activate test mode.
(2) Test mode activation by shorting the TS terminal
NOTICE:
If a part of the active torque control 4WD system has a defect, the AWD warning light will illuminate.
(c) Check if the AWD warning light has changed to the test mode display.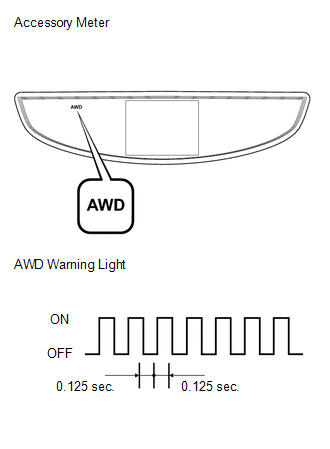 (d) Start the engine.
PROBLEM SYMPTOMS TABLE HINT: Use the table below to help determine the cause of problem symptoms. If multiple suspected areas are listed, the potential causes of the symptoms are lis ...
TERMINALS OF ECU 1. CHECK AWD CONTROL ECU (a) Measure the voltage and resistance of the connector. Terminal No. (Symbol) Terminal Description Condition ...
Other materials about Toyota Venza:
Installation
INSTALLATION PROCEDURE 1. INSPECT TORQUE CONVERTER ASSEMBLY 2. INSTALL TORQUE CONVERTER ASSEMBLY (a) Engage the splines of the input shaft and turbine runner. (b) Engage the splines o ...
Inside Vehicle
General Maintenance GENERAL MAINTENANCE CAUTION / NOTICE / HINT These are maintenance and inspection items that are considered to be the owner's responsibility. The owner can do them or they can have them done at a service center. The ...
Multi-information display (LCD type)
The multi-information display presents the driver with a variety of driving-related data, including the clock and current outside temperature. • Clock Indicates and sets the time. • Outside temperature Indicates the outside temperature. The temper ...