Toyota Venza: Seat heaters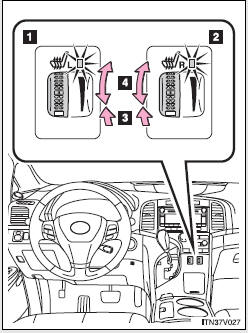 1. For driver's seat 2. For front passenger's seat 3. On
The indicator light comes on.
4. Adjusts the seat temperature
The further you turn the dial upward, the warmer the seat becomes.
- The seat heaters can be used when
►Vehicles with smart key system The "ENGINE START STOP" switch is in IGNITION ON mode.
►Vehicles without smart key system The engine switch is in the "ON" position.
CAUTION
- Burns

• Use caution when seating the following persons in a seat with the seat heater on to avoid the possibility of burns:
• Babies, small children, the elderly, the sick and the disabled • Persons with sensitive skin • Persons who are fatigued • Persons who have taken alcohol or drugs that induce sleep (sleeping drugs, cold remedies, etc.)
• Do not cover the seat with anything when using the seat heater.
Using the seat heater with a blanket or cushion increases the temperature of the seat and may lead to overheating.
NOTICE
- To prevent seat heater damage
Do not put unevenly weighted objects on the seat and do not stick sharp objects (needles, nails, etc.) into the seat.
- To prevent battery discharge
Turn the switches off when the engine is not running.