Toyota Venza: Parking brake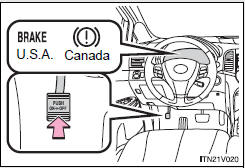 Sets the parking brake* (Depressing the pedal again releases the parking brake.)
*: Fully depress the parking brake pedal with your left foot while depressing the brake pedal with your right foot.
- Usage in winter time
NOTICE
- Before driving
Fully release the parking brake.
Driving the vehicle with the parking brake set will lead to brake components overheating, which may affect braking performance and increase brake wear.