Toyota Venza: Horn System
Precaution
PRECAUTION
NOTICE:
When disconnecting the cable from the negative (-) battery terminal, initialize the following system after the cable is reconnected.
System Name

See Procedure

Back Door Closer System




Power Back Door System
1. EXPRESSIONS OF IGNITION SWITCH
The type of ignition switch used on this model differs according to the specifications of the vehicle. The expressions listed in the table below are used in this section.
Expression

Switch Type

Ignition Switch (Position)

Engine Switch (Condition)

Ignition Switch off

LOCK

Off

Ignition Switch ON

ON

On (IG)

Ignition Switch ACC

ACC

On (ACC)

Engine Start

START

On (Start)
Parts Location
PARTS LOCATION
ILLUSTRATION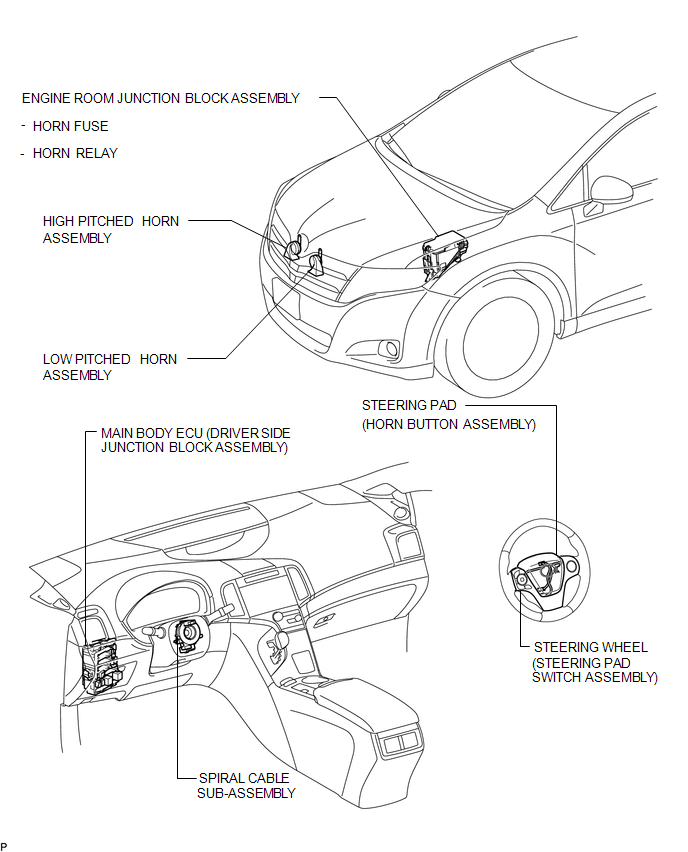 System Diagram
SYSTEM DIAGRAM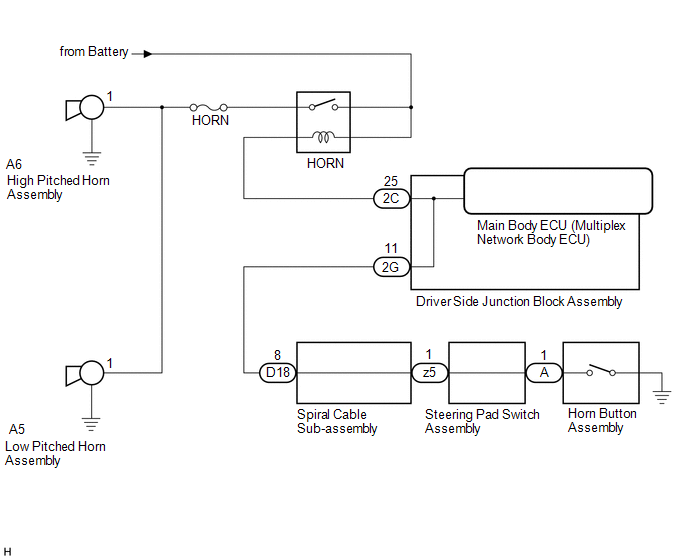 Problem Symptoms Table
PROBLEM SYMPTOMS TABLE
HINT:
Use the table below to help determine the cause of problem symptoms. If multiple suspected areas are listed, the potential causes of the symptoms are listed in order of probability in the "Suspected Area" column of the table. Check each symptom by checking the suspected areas in the order they are listed. Replace parts as necessary.
HORN SYSTEM
Symptom

Suspected Area

See page

Horn does not sound

HORN fuse

-

HORN relay (Engine room junction block assembly)




Horn button assembly




Steering pad switch assembly




Spiral cable sub-assembly




Wire harness

-

Horn sounds all the time

HORN relay (Engine room junction block assembly)




Horn button assembly




Steering pad switch assembly




Spiral cable sub-assembly




Wire harness

-

Low pitched horn operates but high pitched horn does not operate

High pitched horn assembly




Wire harness

-

High pitched horn operates but low pitched horn does not operate

Low pitched horn assembly




Wire harness

-