Toyota Venza: Vehicle Speed or Engine Speed Signal Malfunction (C2173/73)
DESCRIPTION
The tire pressure warning ECU receives a vehicle speed signal from the combination meter and an engine speed signal from the ECM. The tire pressure warning ECU uses these signals to detect DTCs C2121/21 to C2124/24 (No Signal from Transmitter).
DTC No.

DTC Detection Condition

Trouble Area

C2173/73

When either of the following conditions is met for a total of 15 minutes:

(a) No engine speed signal while vehicle speed is 8 km/h (5 mph) or more

(b) No vehicle speed signal while engine speed is a specified value

Combination meter
ECM
Wire harness or connector
Tire pressure warning ECU
HINT:
This DTC is set at the same time as DTCs C2121/21 to C2124/24 are being set.
WIRING DIAGRAM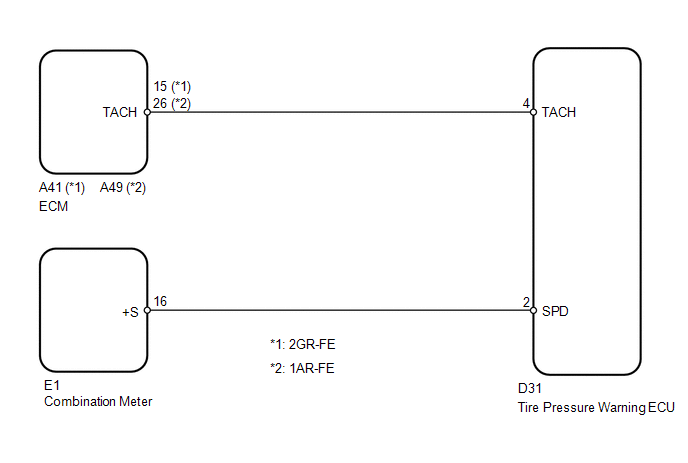 CAUTION / NOTICE / HINT
NOTICE:
When replacing the tire pressure warning ECU, read the transmitter IDs stored in the old ECU using the Techstream and write them down before removal.
It is necessary to perform registration (See page ) of the transmitter IDs into the tire
pressure warning ECU if the ECU has been replaced.
PROCEDURE
| | |
| --- | --- |
| 1. | PERFORM SIGNAL CHECK (VEHICLE SPEED SIGNAL AND ENGINE SPEED SIGNAL) |
(a) Enter the signal check mode in Test Mode Procedure (See page

).
(b) Drive the vehicle at 20 km/h (12 mph) or more for 10 seconds to clear DTC C2191/91.
(c) Start the engine and allow it to run at 1000 rpm for 3 seconds or more to clear DTC C2194/94.
(d) Check for signal check DTCs.
| Result | Proceed to |
| --- | --- |
| DTCs C2191/91 and C2194/94 are cleared | A |
| DTC C2191/91 is output | B |
| DTC C2194/94 is output | C |
HINT:
DTCs C2181/81 to C2184/84 (Transmitter ID not Received) are output at this time, but they are not related to this check.
| | | |
| --- | --- | --- |
| A | | USE SIMULATION METHOD TO CHECK |
| | | |
| --- | --- | --- |
| B | | GO TO DTC C2191/91 |
| | | |
| --- | --- | --- |
| C | | GO TO DTC C2194/94 |
DIAGNOSTIC TROUBLE CODE CHART HINT: If a trouble code is displayed during the DTC check, inspect the circuit listed for that code. For details of each code, refer to the relevant page listed under ...
DESCRIPTION The signals are transmitted to the tire pressure warning antenna and receiver on the body as radio waves and then sent to the tire pressure warning ECU. DTC No. D ...
Other materials about Toyota Venza:
Front Passenger Side Door ECU Communication Stop (B2322)
DESCRIPTION This DTC is stored when LIN communication between the power window regulator motor assembly (for front passenger side) and main body ECU (driver side junction block assembly) stops for more than 10 seconds. DTC No. DTC D ...
Precaution
PRECAUTION 1. PRECAUTION FOR DISCONNECTING THE BATTERY CABLE NOTICE: When disconnecting the cable from the negative (-) battery terminal, initialize the following systems after the cable is reconnected. System Name See Procedure ...
Problem Symptoms Table
PROBLEM SYMPTOMS TABLE HINT: Use the table below to help determine the cause of problem symptoms. If multiple suspected areas are listed, the potential causes of the symptoms are listed in order of probability in the "Suspected Area&quot ...