Toyota Venza: Inspection
INSPECTION
PROCEDURE
1. INSPECT FUEL PUMP ASSEMBLY WITH FILTER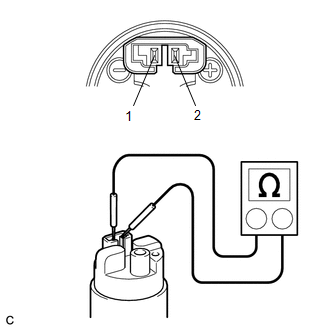 (a) Inspect fuel pump resistance.
(1) Measure the resistance according to the value(s) in the table below.
Standard Resistance:
| Tester Connection | Condition | Specified Condition |
| --- | --- | --- |
| 1 - 2 | 20°C (68°F) | 0.2 to 3.0 Ω |
If the result is not as specified, replace the fuel pump.
(b) Inspect fuel pump operation.
(1) Connect a battery positive (+) lead to terminal 2 of the connector, and a negative (-) lead to terminal 1. Check that the fuel pump operates.
NOTICE:
These tests must be performed within 10 seconds to prevent the coil from burning out.
Keep the fuel pump as far away from the battery as possible.
Always switch the voltage on and off on the battery side, not the fuel pump side.
DISASSEMBLY PROCEDURE 1. REMOVE FUEL SENDER GAUGE 2. SEPARATE FUEL SUCTION PLATE SUB-ASSEMBLY (a) Disconnect the fuel pump connector from the fuel suction plate. NOTICE: Do not ...
REASSEMBLY PROCEDURE 1. INSTALL FUEL PUMP ASSEMBLY WITH FILTER HINT: Perform "Inspection After Repair" after replacing the fuel pump (See page ). (a) Apply gasoline to a ne ...
Other materials about Toyota Venza:
Inspection
INSPECTION PROCEDURE 1. INSPECT FRONT LOWER BALL JOINT (a) Inspect the turning torque of the ball joint. (1) Secure the front lower ball joint in a vise using aluminum plates. (2) Install the nut to the front lower ball joint stud. (3) U ...
ECU Power Source Circuit
DESCRIPTION This circuit provides power to operate the transponder key ECU assembly. WIRING DIAGRAM CAUTION / NOTICE / HINT NOTICE: If the transponder key ECU assembly is replaced, register the key and ECU communication ID (See page ). PROCEDURE ...
Power Mirror Surface Position is not Memorized
SYSTEM DESCRIPTION If either the M1 or M2 seat memory switch is pressed, the outer mirror control ECU assembly (driver door) detects the switch operation and sends the seat memory switch signal to the main body ECU (driver side junction block assembly) vi ...