Toyota Venza: Inspection
INSPECTION
PROCEDURE
1. INSPECT FUEL PUMP ASSEMBLY WITH FILTER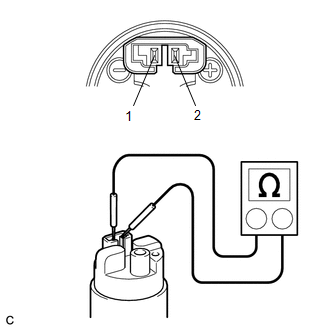 (a) Inspect fuel pump resistance.
(1) Measure the resistance according to the value(s) in the table below.
Standard Resistance:
| Tester Connection | Condition | Specified Condition |
| --- | --- | --- |
| 1 - 2 | 20°C (68°F) | 0.2 to 3.0 Ω |
If the result is not as specified, replace the fuel pump.
(b) Inspect fuel pump operation.
(1) Connect a battery positive (+) lead to terminal 2 of the connector, and a negative (-) lead to terminal 1. Check that the fuel pump operates.
NOTICE:
These tests must be performed within 10 seconds to prevent the coil from burning out.
Keep the fuel pump as far away from the battery as possible.
Always switch the voltage on and off on the battery side, not the fuel pump side.
DISASSEMBLY PROCEDURE 1. REMOVE FUEL SENDER GAUGE 2. SEPARATE FUEL SUCTION PLATE SUB-ASSEMBLY (a) Disconnect the fuel pump connector from the fuel suction plate. NOTICE: Do not ...
REASSEMBLY PROCEDURE 1. INSTALL FUEL PUMP ASSEMBLY WITH FILTER HINT: Perform "Inspection After Repair" after replacing the fuel pump (See page ). (a) Apply gasoline to a ne ...
Other materials about Toyota Venza:
Removal
REMOVAL PROCEDURE 1. DISCONNECT CABLE FROM NEGATIVE BATTERY TERMINAL CAUTION: Wait at least 90 seconds after disconnecting the cable from the negative (-) battery terminal to disable the SRS system (See page ). NOTICE: When disconnecting the cable, s ...
Drive Belt
Components COMPONENTS ILLUSTRATION On-vehicle Inspection ON-VEHICLE INSPECTION PROCEDURE 1. INSPECT V-RIBBED BELT (a) Check the belt for wear, cracks or other signs of damage. If any of the following defects is found, replace the V-r ...
Lost Communication with "Door Control Module A" (U0199)
DESCRIPTION DTC No. DTC Detection Condition Trouble Area U0199 No communication from the outer mirror control ECU (for front passenger side) continues. Outer mirror control ...