Toyota Venza: Inspection
INSPECTION
PROCEDURE
1. INSPECT FUEL PUMP ASSEMBLY WITH FILTER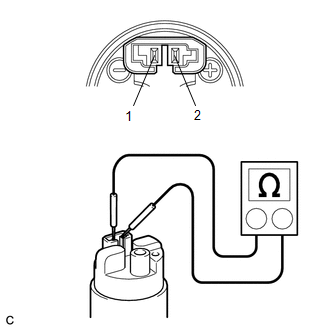 (a) Inspect fuel pump resistance.
(1) Measure the resistance according to the value(s) in the table below.
Standard Resistance:
| Tester Connection | Condition | Specified Condition |
| --- | --- | --- |
| 1 - 2 | 20°C (68°F) | 0.2 to 3.0 Ω |
If the result is not as specified, replace the fuel pump.
(b) Inspect fuel pump operation.
(1) Connect a battery positive (+) lead to terminal 2 of the connector, and a negative (-) lead to terminal 1. Check that the fuel pump operates.
NOTICE:
These tests must be performed within 10 seconds to prevent the coil from burning out.
Keep the fuel pump as far away from the battery as possible.
Always switch the voltage on and off on the battery side, not the fuel pump side.
DISASSEMBLY PROCEDURE 1. REMOVE FUEL SENDER GAUGE 2. SEPARATE FUEL SUCTION PLATE SUB-ASSEMBLY (a) Disconnect the fuel pump connector from the fuel suction plate. NOTICE: Do not ...
REASSEMBLY PROCEDURE 1. INSTALL FUEL PUMP ASSEMBLY WITH FILTER HINT: Perform "Inspection After Repair" after replacing the fuel pump (See page ). (a) Apply gasoline to a ne ...
Other materials about Toyota Venza:
Vehicle Speed Signal Circuit between Stereo Component Amplifier and Combination Meter
DESCRIPTION The stereo component amplifier assembly receives a vehicle speed signal from the combination meter assembly to control the ASL function. HINT: A voltage of 12 V or 5 V is output from each ECU and then input to the combination meter ...
Hill-start assist control
Hill-start assist control helps to prevent the vehicle from rolling backwards when starting on incline or slippery slope. To engage hill-start assist control, further depress the brake pedal when the vehicle is stopped completely. A buzzer will sound o ...
Luggage compartment features
- Cargo hooks Cargo hooks are provided for securing loose items. - Shopping bag hooks - Auxiliary box Lift the right side deck board. - Luggage cover Pull out the luggage cover and hook it on the anchors. Removing luggage ...