Toyota Venza: Sound Signal Circuit between Navigation Receiver Assembly and Stereo Jack Adapter
DESCRIPTION
The No. 1 stereo jack adapter assembly sends the sound signal from an external device to the navigation receiver assembly via this circuit.
The sound signal that has been sent is amplified by the navigation receiver assembly and then is sent to the speakers.
If there is an open or short in the circuit, sound cannot be heard from the speakers even if there is no malfunction in the navigation receiver assembly or speakers.
WIRING DIAGRAM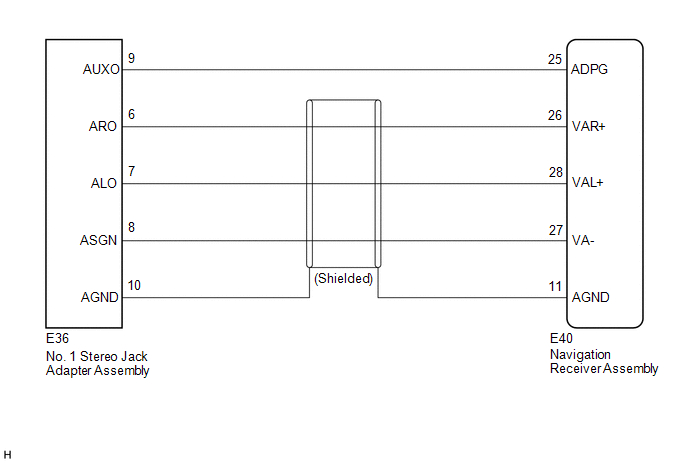 PROCEDURE
| | |
| --- | --- |
| 1. | CHECK HARNESS AND CONNECTOR (NAVIGATION RECEIVER ASSEMBLY - NO. 1 STEREO JACK ADAPTER ASSEMBLY) |
| | |
| --- | --- |
| (a) Disconnect the E40 navigation receiver assembly connector. | |
(b) Disconnect the E36 No. 1 stereo jack adapter assembly connector.
(c) Measure the resistance according to the value(s) in the table below.
Standard Resistance:
| Tester Connection | Condition | Specified Condition |
| --- | --- | --- |
| E40-25 (ADPG) - E36-9 (AUXO) | Always | Below 1 Ω |
| E40-26 (VAR+) - E36-6 (ARO) | Always | Below 1 Ω |
| E40-28 (VAL+) - E36-7 (ALO) | Always | Below 1 Ω |
| E40-27 (VA-) - E36-8 (ASGN) | Always | Below 1 Ω |
| E40-11 (AGND) - E36-10 (AGND) | Always | Below 1 Ω |
| E40-25 (ADPG) - Body ground | Always | 10 kΩ or higher |
| E40-26 (VAR+) - Body ground | Always | 10 kΩ or higher |
| E40-28 (VAL+) - Body ground | Always | 10 kΩ or higher |
| E40-27 (VA-) - Body ground | Always | 10 kΩ or higher |
| E40-11 (AGND) - Body ground | Always | 10 kΩ or higher |
Text in Illustration
*a

Front view of wire harness connector

(to Navigation Receiver Assembly)

*b

Front view of wire harness connector

(to No. 1 Stereo Jack Adapter Assembly)
| | | |
| --- | --- | --- |
| OK | | PROCEED TO NEXT SUSPECTED AREA SHOWN IN PROBLEM SYMPTOMS TABLE |
| | | |
| --- | --- | --- |
| NG | | REPAIR OR REPLACE HARNESS OR CONNECTOR |