Toyota Venza: Navigation Voice Circuit
DESCRIPTION
This circuit is used when the voice switch of the steering pad switch assembly is pushed.
Using this circuit, the navigation receiver assembly sends signals to the stereo component amplifier assembly.
WIRING DIAGRAM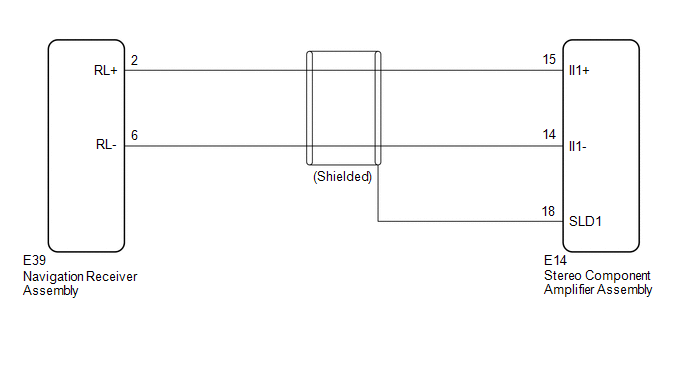 PROCEDURE
| | |
| --- | --- |
| 1. | CHECK HARNESS AND CONNECTOR (NAVIGATION RECEIVER ASSEMBLY - STEREO COMPONENT AMPLIFIER ASSEMBLY) |
(a) Disconnect the E39 navigation receiver assembly connector.
(b) Disconnect the E14 stereo component amplifier assembly connector.
(c) Measure the resistance according to the value(s) in the table below.
Standard Resistance:
| Tester connection | Condition | Specified condition |
| --- | --- | --- |
| E39-2 (RL+) - E14-15 (II1+) | Always | Below 1 Ω |
| E39-6 (RL-) - E14-14 (II1-) | Always | Below 1 Ω |
| E14-15 (II1+) - Body ground | Always | 10 kΩ or higher |
| E14-14 (II1-) - Body ground | Always | 10 kΩ or higher |
| E14-18 (SLD1) - Body ground | Always | 10 kΩ or higher |
| | | |
| --- | --- | --- |
| OK | | PROCEED TO NEXT SUSPECTED AREA SHOWN IN PROBLEM SYMPTOMS TABLE |
| | | |
| --- | --- | --- |
| NG | | REPAIR OR REPLACE HARNESS OR CONNECTOR |