Toyota Venza: TC and CG Terminal Circuit
DESCRIPTION
DTC output mode is set by connecting terminals 13 (TC) and 4 (CG) of the DLC3. The DTCs are indicated by the blinking pattern of the tire pressure warning light.
WIRING DIAGRAM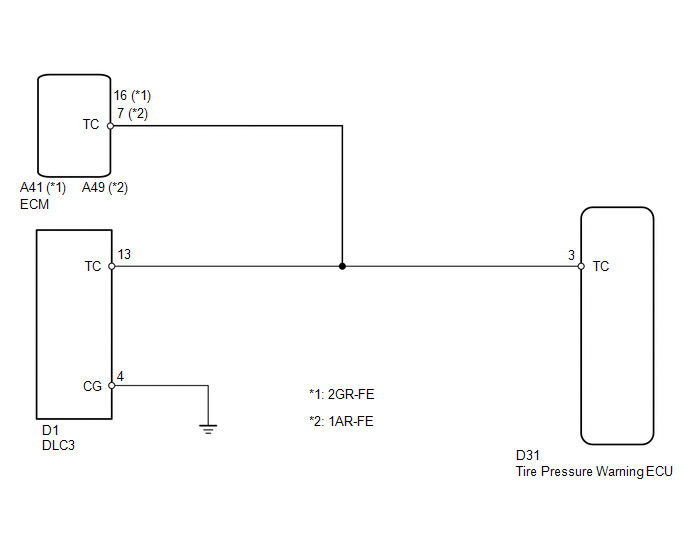 HINT:
When various warning lights blink continuously, a ground short in terminal TC of the DLC3 or an internal ground short in an ECU connected to this circuit may have occurred.
CAUTION / NOTICE / HINT
NOTICE:
When replacing the tire pressure warning ECU, read the transmitter IDs stored in the old ECU using the Techstream and write them down before removal.
It is necessary to perform registration (See page ) of the transmitter IDs into the tire
pressure warning ECU after the ECU has been replaced.
PROCEDURE
| | |
| --- | --- |
| 1. | CHECK HARNESS AND CONNECTOR (DLC3 - TIRE PRESSURE WARNING ECU) |
| | |
| --- | --- |
| (a) Disconnect the D31 ECU connector. | |
(b) Measure the resistance according to the value(s) in the table below.
Standard Resistance:
Tester Connection

Condition

Specified Condition

D31-3 (TC) - D1-13 (TC)

Always

Below 1 Ω

D1-4 (CG) - Body ground
Text in Illustration
*1

Front view of wire harness connector

(to DLC3)

*2

Front view of wire harness connector

(to Tire Pressure Warning ECU)
| | | |
| --- | --- | --- |
| OK | | PROCEED TO NEXT SUSPECTED AREA SHOWN IN PROBLEM SYMPTOMS TABLE |
| | | |
| --- | --- | --- |
| NG | | REPAIR OR REPLACE HARNESS OR CONNECTOR |
DESCRIPTION If the tire pressure warning ECU detects a malfunction, the tire pressure warning light blinks for 1 minute then stays on and tire pressure monitor is canceled at the same time. At th ...
Other materials about Toyota Venza:
Vehicle Speed Signal Malfunction (C1541)
DESCRIPTION The power steering ECU receives vehicle speed signals from the brake actuator assembly (skid control ECU) via CAN communication. The ECU provides appropriate assisting force in accordance with the vehicle speed, based on the signals. ...
Short in Torque Converter Clutch Solenoid Circuit (Shift Solenoid Valve SL) (P2769,P2770)
DESCRIPTION Shift solenoid valve SL is turned on and off by signals from the TCM to control the hydraulic pressure acting on the lock-up relay valve, which then controls operation of the lock-up clutch. DTC No. DTC Detection Conditi ...
Customize Parameters
CUSTOMIZE PARAMETERS 1. CUSTOMIZING FUNCTION WITH TECHSTREAM HINT: The items in the table below can be customized. NOTICE: When the customer requests a change in a function, first make sure that the function can be customized. Be sure to m ...