Toyota Venza: Locking and unlocking the doors and key linked functions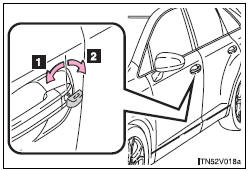 Using the mechanical key in order to perform the following operations.
1. Locks all doors
2. Unlocks all doors
Turning the key rearward unlocks the driver's door. Turning the key once again within 3 seconds unlocks the other doors.