Toyota Venza: BUS IC Communication Malfunction (B1497/97)
DESCRIPTION
The air conditioning harness connects the A/C amplifier and each servo. The A/C amplifier supplies power and sends operation instructions to each servo through the air conditioning harness. Each servo sends the damper position information to the A/C amplifier.
DTC No.

DTC Detection Condition

Trouble Area

B1497/97

Communication line error or open

Air conditioning harness
A/C amplifier
WIRING DIAGRAM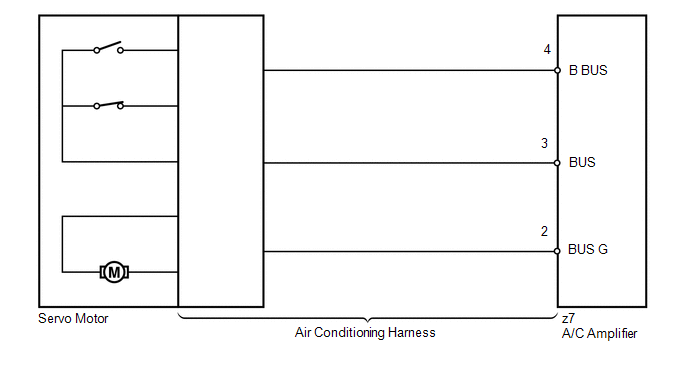 PROCEDURE
| | |
| --- | --- |
| (a) Remove the A/C amplifier with the connectors still connected. | |
(b) Measure the resistance according to the value(s) in the table below.
Standard Resistance:
| Tester Connection | Condition | Specified Condition |
| --- | --- | --- |
| z7-2 (BUS G) - Body ground | Always | Below 1 Ω |
Text in Illustration
*1

Component with harness connected

(A/C Amplifier)
| | | |
| --- | --- | --- |
| NG | | REPLACE A/C AMPLIFIER |
OK

(a) Measure the voltage according to the value(s) in the table below.

Standard Voltage:

| Tester Connection | Condition | Specified Condition |
| --- | --- | --- |
| z7-4 (B BUS) - z7-2 (BUS G) | Ignition switch off | Below 1 V |
| z7-4 (B BUS) - z7-2 (BUS G) | Ignition switch ON | 11 to 14 V |
| z7-3 (BUS) - z7-2 (BUS G) | Ignition switch ON | Pulse generation |

Text in Illustration

*1

Component with harness connected

(A/C Amplifier)
| | | |
| --- | --- | --- |
| OK | | REPLACE AIR CONDITIONING HARNESS |
| | | |
| --- | --- | --- |
| NG | | REPLACE A/C AMPLIFIER |