Toyota Venza: Manual Shifting Test
MANUAL SHIFTING TEST
1. PERFORM MANUAL SHIFTING TEST
HINT:
Using this test, it can be determined whether a problem is in an electrical circuit or if it is a mechanical problem in the transaxle.
If any abnormalities are found in the following test, the problem is in the transaxle itself.
(a) Disconnect the connector of the TCM.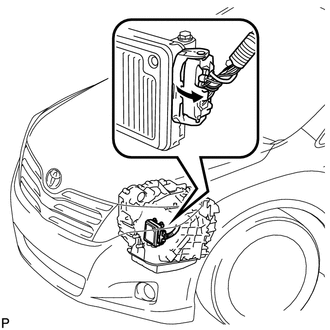 HINT:
It is possible to deactivate the electrical shift control by disconnecting the TCM connector. The gears can then be changed mechanically with the shift lever.
(b) Drive with the TCM connector disconnected. Move the shift lever to each position to check whether the gear changes as shown in the table below.
Shift Lever Position

Gear

P

P

R

R

D

3rd

No Shift (Gears will not change)
(c) Connect the connector of the TCM.
(d) Clear the DTCs (See page

).
HYDRAULIC TEST 1. PERFORM HYDRAULIC TEST (a) Measure the line pressure. CAUTION: The line pressure test should always be carried out with at least 2 people. One person should observe the condi ...
REGISTRATION CAUTION / NOTICE / HINT NOTICE: When the automatic transaxle is replaced, the transaxle compensation code must be input into the TCM (proceed to Procedure 1). After the aut ...
Other materials about Toyota Venza:
Automatic air conditioning system
Airflow and outlets are automatically adjusted according to the temperature setting. ► Control panel ► Multi-information display (TFT type) The settings display will differ according to the situation. If is pressed while in automat ...
Removal
REMOVAL PROCEDURE 1. REMOVE ENGINE ASSEMBLY WITH TRANSAXLE See page for 2GR-FE See page for 1AR-FE 2. REMOVE FRONT NO. 1 STABILIZER BRACKET LH 3. REMOVE FRONT NO. 1 STABILIZER BRACKET RH HINT: Perform the same procedure as for the LH side. 4. REM ...
Diagnostic Trouble Code Chart
DIAGNOSTIC TROUBLE CODE CHART Sliding Roof (Sliding Roof ECU (Sliding Roof Drive Gear Sub-assembly)) DTC Code Detection Item Trouble Area See page B2341 Sensor (Motor) Failure ...