Toyota Venza: Precaution
PRECAUTION
1. INITIALIZATION
NOTICE:
Perform the Registration (VIN registration) when replacing the ECM (See page

).
HINT:
Reset memory or initialization cannot be completed by only disconnecting and reconnecting the cable of the negative (-) battery terminal.
2. FOR USING TECHSTREAM
CAUTION:
Observe the following items for safety reasons:
Before using the Techstream, read the instruction manual.
Prevent the Techstream cable from being caught on the pedals, shift lever or steering wheel when driving with the Techstream connected to the vehicle.
When driving the vehicle for testing purposes using the Techstream, 2 persons are required. One is for driving the vehicle, and the other operates the Techstream.
3. DISCONNECTING AND RECONNECTING NEGATIVE (-) BATTERY CABLE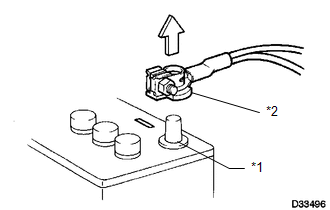 (a) Before performing work on electronic components, disconnect the cable from the negative (-) battery terminal to prevent damage to electrical system or electrical components.
Text in Illustration
| | |
| --- | --- |
| *1 | Negative (-) Battery Terminal |
| *2 | Cable |
(b) Before disconnecting and reconnecting the battery cable, turn the ignition switch off and the headlight switch off. Then loosen the terminal nut completely. Do not damage the cable or terminal.
(c) When the battery cable is disconnected, the clock and radio settings and stored DTCs are cleared. Therefore, before disconnecting the battery cable, make a note of them.
NOTICE:
When disconnecting and reconnecting the cable of the negative (-) battery terminal, the cowl top ventilator louver must also be removed and installed. Be sure to install the cowl top ventilator louver properly. If it is not installed properly, water may enter the engine compartment and cause malfunctions.
When the cable is disconnected from the negative (-) battery terminal, initialize the following system(s) after the cable is reconnected.
System Name

See Procedure

Back Door Closer System




Power Back Door System
4. EXPRESSION OF IGNITION SWITCH
HINT:
The type of ignition switch used on this model differs according to the specifications of the vehicle.
The expressions listed in the table below are used in this section.
Expression

Switch Type

Ignition Switch (Position)

Engine Switch (Condition)

Ignition switch off

LOCK

Off (Lock)

Ignition switch ON

ON

On (IG)

Ignition switch ACC

ACC

On (ACC)

Engine start

START

On (Start)
DEFINITION OF TERMS Term Definition Monitor Description Description of what the ECM monitors and how it detects malfunctions (monitoring purpose ...
Other materials about Toyota Venza:
How To Proceed With Troubleshooting
CAUTION / NOTICE / HINT HINT: Use the following procedure to troubleshoot. *: Use the Techstream. PROCEDURE 1. VEHICLE BROUGHT TO WORKSHOP NEXT ...
Engine Circuit Malfunction (C1280/82)
DESCRIPTION If a malfunction in the ECM circuit occurs, the AWD control ECU will output this DTC. DTC No. DTC Detection Condition Trouble Area C1280/82 When the following continues for ...
Inspection
INSPECTION PROCEDURE 1. INSPECT FRONT STABILIZER LINK ASSEMBLY (a) Inspect the turning torque of the ball joint. (1) Secure the front stabilizer link assembly in a vise using aluminum plates. (2) Install the nut to the front stabilizer ...